Help us celebrate another amazing member!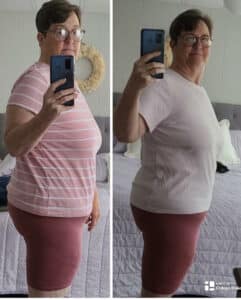 Lisa is…
Down 20 lbs. and 19 inches in 30 days.
Off of blood pressure medication!
She has more energy and is sleeping like a baby!
Enjoying people noticing her successes
"The program has given me a whole new mindset. Thinking positive and with willpower, I will succeed.
The program has taught me how I think about food in relation to my emotions. Being more aware of these things has me questioning 'why do I want to eat that?' The program is teaching me how to deal with those issues.
I feel more energetic. I'm not tired all the time. I sleep all night. My whole life is changing for the good. Losing 20lbs in 30 days proves that I can lose more." ~Leeza Ann
To start seeing amazing results for yourself and get your FREE WEIGHT LOSS HORMONE SESSION go to www.2030FastTrack.com RIGHT NOW!