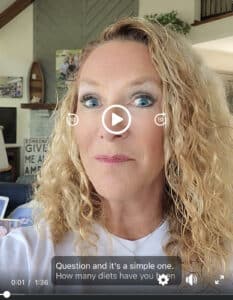 How to Turn Any & All Diet Failures into Your Formula for Lifelong Success!!
Question… how many diets do you think you've been on in your lifetime?????
The answer, for most of us, is an overwhelming, "I have lost count!!!"
Here's some really fun news! Regardless of how many programs you have been on, or whether or not those programs brought you long-term success, in Monday's Happy Healthy Master Class (9/11/23), in the 2030 FastTrack Facebook group at noon Eastern time, I am going to show you how to look at each one of those programs to find your secret to LIFELONG success!
It's not a failure if it's a formula for learning!
Our goal for you is lifelong lifestyle! And, I believe I'm going to give you some very specific keys for how to make that a reality in Monday's masterclass!
Whether you are part of one of our programs or not, you're going to want to set your calendar and turn on your notifications so you can be with us at noon Eastern time on Monday!
Again, how many diets have you followed in your lifetime?????
Come share time on Monday and discover how those programs and the components of those programs (even if they did not result in long-term success for you) hold the key to your long-term success!
I just CAN'T WAIT to teach you this stuff! It's gonna be AWWWWESOME!
Come ready to learn!!
Let's create your happy, healthy lifelong lifestyle!!